Part of the gas installation required a piece of machinery that had to be endorsed. Aaron is one of only a handful of people in the South Island certified to endorse machinery so that they are site safe and fit for purpose. This was an exceptional bonus for the client and for the project, saving time and money. Aaron can also help you design gas machinery fit for purpose.
Aaron enjoys sitting down with the client, listening to the requirements and working out new ways of fitting a system that will not only do the job, but will do it well, last the duration and be cost effective.​
In an industry where the weekly gas bill reaches into the 'tens' of thousands of dollars, it is essential that every effort is made to utilise available technology with the highest efficiency. Another important aspect of the gas fit-out was ease of maintenance. Having been called to numerous 'break-downs' in the middle of winter, Aaron suggested that part of future proofing also include making sure that all possible 'issues' could be dealt with quickly, safely, cost effectively and being able to facilitate easy of maintenance.
Keeping it simple is so important - "if it's complicated, it's costly, prone to problems, and possibly dangerous as well."​
Aaron specialises in the large projects and completes them with confidence and professional knowhow so give him a call to discuss your next project and gas fitting requirements. ​​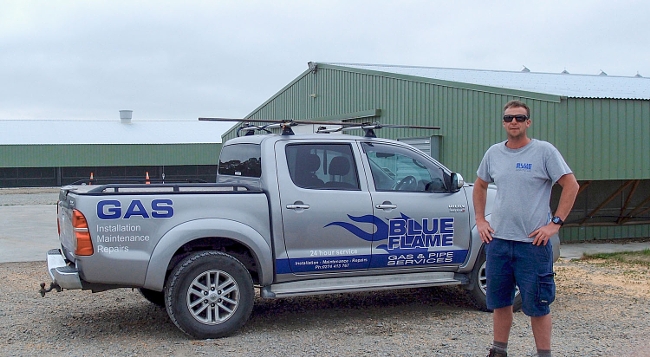 Aaron at Blue Flame recently completed the gas installation at Mandeville Chicks, a Canterbury Chicken farm north of Christchurch.​
Gas installation at canterbury chicken farm
Mandeville Chicks lost three of their six chicken rearing sheds during the earthquakes and being the lifestream of their business it was essential that the sheds were rebuilt and rebuilt to new standards, future proofed and within budget.​
The previous sheds were taking anywhere around 4 hours to warm up during the cooler months which was slow and expensive. After some creative thinking it was decided that installing a 'preheat' system was the answer. Only taking an hour to do the job, saving significant time and money. Of course all new pipework had to be installed and yet Aaron was able to incorporate some of the original system components in the new build.